On August 20, twenty-one years old Ayushi Gupta, a female worker of a local electronic store of Marine Lines, was arrested from Borivali station for carrying a bogus QR code-based pass. Though she was an employee of the shop, her e-pass mentioned her as a computer operator of BMC's B ward. It seems that she was using a fake ID card for availing permission to travel on the local train.
But, this is not the only case that has come into the limelight since the reopening of Mumbai local trains. On the same day, Ali Muhammad Patel was also arrested at the Dadar station for carrying a fake ID.
In fact, in the last few months, a total of 30 people have been detained by the Central Railways for using illegal methods for travelling in local trains. About five FIR cases have been lodged with GRP (Government Railway Police) under sections 465 (forgery), 420 (cheating), 468 (forgery for purpose of cheating) and 471 (using a forged document intentionally) of the Indian Penal Code (IPC). According to the Sumit Thakur, Chief Public Relations Officer of Western Railway, on an average, about twenty cases of forged IDs have been identified regularly.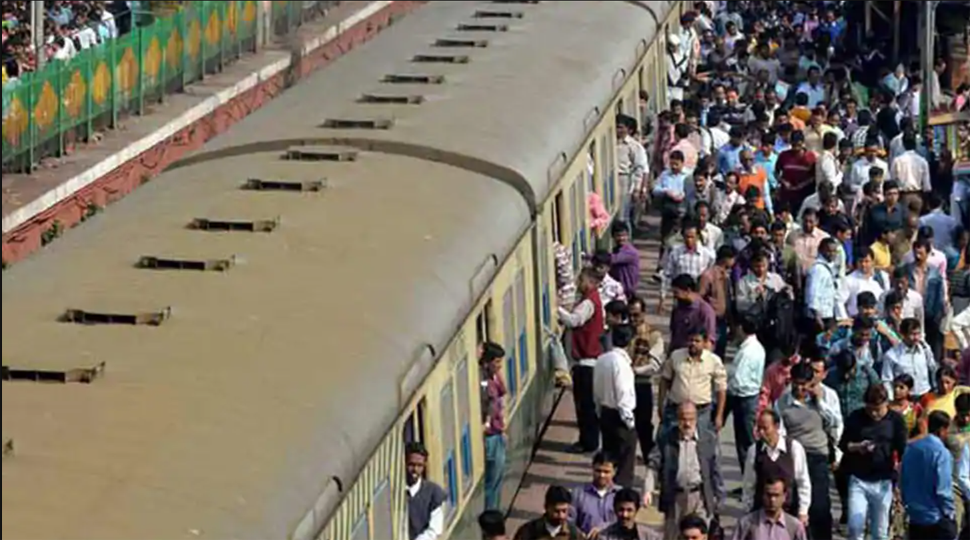 To protect the citizens from the rapidly spreading COVID-19 disease, the Indian government imposed a country based lockdown from 25 March 2020. Under its effect, Indian Railways shut down its expansive network for two months for the first time in 46 years. In Maharashtra, on June 15, the Railway authority started operating local trains for only certain groups of people who were acknowledged as essential staffs by the Government of Mumbai and Brihanmumbai Municipal Corporation (BMC). These groups included state and central government staffs, employees of PSUs, pharma companies, national and state banks and some other workers.
A set of ground rules was enforced on the passengers for the smooth and safe run of the sub-urban trains. Passengers were required to carry their legitimate identification cards to enter the railway station. Inside the station premises, they were provided with a QR based e-pass. State police and Railway Police Force (RPF) were deployed at every railway station to do multiple checking to make sure that only essential staffs avail the facility of the local trains. Only 700 commuters were allowed per train.
 The common people were not allowed to avail these sub-urban services to avoid the crowd in the trains and railways station. They were asked to rely on other means of transportations like auto-rickshaws, civic-run buses and private vehicles. But, because of the availability of limited transportation facilities for such a large number of people, the general public started facing a lot of problems. The situation worsened when the government opened more offices. 
Moreover, the people living in far-off suburbs were facing more difficulties because of the absence of adequate public transport buses and the poor condition of the roads. The people belonging to the groups of migrant workers, like the daily wage labourers, could not afford these private vehicles because of fare hikes and soaring fuel prices. Hence, even if the situation of Coronavirus pandemic is worsening every day, the general public is requesting the government to open local trains to everyone.
But, since the government didn't agree to do so, the desperate masses started using forged IDs for going to their respective places of work. Some more cases recorded under this crime are as follows;
An employee of a photocopier shop, Ramesh Daka, was caught at Andheri Station with a forged card. He claimed that his employer, Darshan Shyamji, had provided fake cards to all his employees. Two other people were arrested at the Borivali station for carrying a fake ID card issued by the same agent. The agent who was arrested by the police is now out on bail.
Thirty-six-year-old Ramesh Dake confessed about obtaining the fake Id of a cleaning staff of BMC for Rs. 1000/-.
At Andheri station, a woman was arrested by the GRP for allegedly stealing her neighbour's ID card who was a nurse by profession. She photocopied that card and stuck her photograph on it.
A passenger, Mayank Dinesh Savla was found carrying a letter from Senior Section Officer of WR, Borivali. The letter asked the authorities to allow him into the station, for, he was a contract employee working in WR on emergency duty. However, the authorities discovered that the person was a waiter at a hotel in Andheri. He confessed about obtaining this letter for Rs. 2000/-
Some vendors were using the forged cards of BMC that referred them as the contract labourers of the pest control department of BMC has been identified by the police.
On 26 August, the police arrested Anees Rathod as the prime accused of providing people with fake passes and IDs. He used to run an agency for assisting people to procure PAN and Aadhar card. He used lockdown as an opportunity to expand his business. The investigation is still under process. Western Railways believes that these incidents are just the tip of an iceberg. 
But, there's a hope that the services of local trains will be available to the general public soon, taking into consideration the statement of Bombay High Court on a plea filed by Bar Council of Maharashtra and Goa. The Bar Council, representing over 1, 75,000 lawyers from two states, had demanded to allow all lawyers the permission to board the local train. HC believed that not only lawyers but, Maharashtra government should also devise an alternative to make sure that the local trains are available to everyone. It stated that many people are losing their jobs every day because they are not able to reach their offices. As a result, they starved because of the lack of a suitable source of income. Even some people, working at private companies are forced to do menial jobs to maintain their family. To prevent the condition from worsening any further, the HC had requested the state to take urgent measures.